Welcome to Our Media Center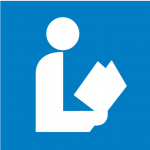 Parental Choice Library Book Restriction Form
Parents may utilize this form to restrict titles their child may check out in the school library. Please complete the form and return it to your child's teacher or librarian.
This form is only required when a parent is seeking to restrict access to materials in the media center.
March 28 (Virtual)
Tryouts Begin February 1, 2023
All week in the Media Center
Requirements: Please read at least 10 of the 15 books and pass those 10 quizzes
A Media Center is a Library and so much more!
The media center at Ocean Palms is a hub of activity. Each Day begins with school news and digital video production followed by classes where students participate and collaborate in one of many varied activities related to media literacy. The goal is to inspire students to be dreamers and doers- to develop skills for their future such as critical thinking, collaboration and effective use of ideas and information. Instructional methods and content are varied to successfully integrate foundational skills and technology as a tool for learning. Students gather and evaluate information and utilize different forms of media. Learning is a lifelong endeavor and, it is the goal of our Media Center to support learning for our school community for everyday, everyone, everything, matters.