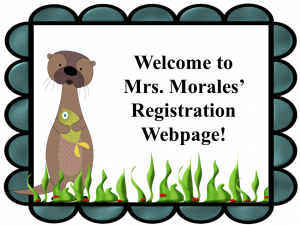 Email: [email protected]
Please complete the Online Registration and upload the required documents. I will contact you after I have reviewed your application.
If you have Registration questions, I will be happy to answer them. Please feel free to email me!
---
REGISTRATION REQUIREMENTS
Requirements for Children to Begin School: Grade Placement (Florida State Statute 1003.21)
Voluntary Pre-K: A child must be four years old on or before September 1st. Information regarding OPE'S VPK Program is listed below.
Kindergarten: A child must be five years old on or before September 1st.
First Grade: A child must be six years old on or before September 1st AND satisfy one of the following: a) Satisfactory completion of kindergarten in a Florida public school. b) Satisfactory completion of kindergarten in a non-public school. c) Previous attendance in an out-of-state school in which the student was admitted on the basis of age requirements established by the state of residency.
Please complete the ONLINE REGISTRATION and upload the required documents listed below:
Birth Certificate or Passport.

Proof of Guardianship/Court Documents (if applicable).

Documentation of a Physical/Health Examination dated within 12 months of the student's enrollment date.

Proof of completed required Immunizations on Florida Certificate DH680. You can obtain this certificate from a Florida physician or a participating pharmacy with a walk-in clinic. View the complete list of Required Immunizations.
Proof of Residency, per the Residency and Guardianship Policy.

Academic Records (for students previously enrolled in another school).

Parent Questionnaire is not required, but helpful for placement. Select questionnaire below.
OPE Kindergarten Parent Questionnaire 
OPE 1st – 5th Grade Parent Questionnaire
If you are not sure which St. Johns County school your child is zoned to attend, please click on the following link: Attendance Zone Locator
---
SCHOOL ACCESS
In a continuing effort to provide safety and security to our students and staff we ask that you complete a School Access Form if you plan to enter a facility in the St. Johns County School District. Any person passing beyond the front office area must show a valid driver's license or state identification card: School Access Form
---
SCHOOL TOURS
Tours are unavailable at this time.

---
EXTENDED DAY PROGRAM
Please visit the following webpage: The DEN Extended Day
---
2020-2021 VPK SCHOOL YEAR PROGRAM  
All spots have been filled at this time.
At Ocean Palms Elementary VPK (Voluntary Prekindergarten) we offer a full day/full school year program on a sliding fee schedule. All SJCSD VPK teachers are highly qualified with bachelor's degrees in the areas of early childhood and disabilities. Maximum class size is 18 students with one teacher and one paraprofessional. We offer a blended VPK class with LIMITED spaces.
Hours are: 8:25am-2:30pm M,T,TH,F and 8:25am-1:30pm Wednesdays. The fees for 2020-2021 are $65.00 per week unless qualified for free/reduced fee. Transportation is not provided and Extended Day is not offered to VPK students.
If you would like your child added to our wait list, please email: [email protected]
Please visit the following website for more information http://www.floridaearlylearning.com/ or how to apply for a VPK  Child Certificate of Eligibility: https://familyservices.floridaearlylearning.com/