Online Pre-Registration for 2022-2023 is available for NEW students!
Current Students, SJV, & Home Education Students are requested to complete the RSV (Returning Student Verification) that was emailed to parents/guardians, from SJCSD.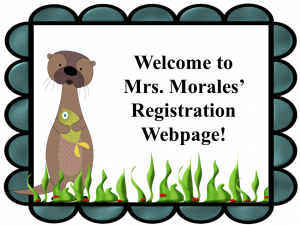 Click here to Meet Mrs. Morales!
Please complete the Online Registration and upload the required documents. I will contact you after I have reviewed your registration.
---
---
QUICK LINKS!
SCHOOL TOURS are

not

available.  
---
---
REGISTRATION REQUIREMENTS!
Requirements for Children to Begin School: Grade Placement (Florida State Statute 1003.21)
Voluntary Pre-K:

 A child must be four years old on or before September 1st. OPE'S VPK Program information can be found at the bottom of this page.
Kindergarten: A child must be five years old on or before September 1st.

First Grade

: A child must be six years old on or before September 1st AND satisfy one of the following: a) Satisfactory completion of kindergarten in a Florida public school. b) Satisfactory completion of kindergarten in a non-public school. c) Previous attendance in an out-of-state school in which the student was admitted on the basis of age requirements established by the state of residency.
Please complete the ONLINE REGISTRATION and upload the required documents listed below:
Copy of

Birth Certificate (If a birth certificate is not available, please refer to 1003.21, FS for other acceptable documentation).
Court Documents

(if applicable).

Documentation of a

Physical/Health Examination

dated within 12 months of the student's enrollment date – can be from out of state) that meets the

Florida Department of Health Requirements.

You may choose to use the recommended

School Entry Health Exam Form (DH3040).

Completed

Florida Certificate DOH680 Form

(Immunizations). Students enrolling for the first time from a state other than Florida must have out of state immunizations records transferred to the DOH 680 Form. You can obtain this form from a Florida physician or Florida Department of Health.

View the complete list of

Required Immunizations.
Current mortgage statement (dated within 30 days), property deed,  signed settlement statement (for new home purchases only; sales/builders contracts not acceptable), homesteaded property tax  statement, or current lease/rental agreement with the names of everyone living in the household on the lease  with terms of agreement.  If the lease is month to month, a notarized letter from the landlord/owner/property manager is required.  Must have both tenant and landlord/property manager's signature and contact information. 

View the complete list of Proof of Residency, if you are not a homeowner or renter and living with someone

 

Residency and Guardianship Policy

.

ONE current 

utility bill

(dated within 30 days) with date, name, address (this may be an activation notice or email confirmation from company with name/address and date).

ONE 

additional

 current 

document

showing your address from the list below:

Bank, cell phone, credit card or insurance policy statement with date, name, address

paycheck stub with date, name, address

HOA statement with date, name, address

property tax record 

vehicle registration

additional utility bill with date, name, address

valid driver's license with enrolling address

Valid driver's license/ID card

(for identification purposes only).

ESE IEP, EP, RTI, 504 documents, etc.

(if applicable).
These items are not required, but helpful for placement:
---
---
VPK FULL DAY ~ SCHOOL YEAR PROGRAM AT OPE!
Voluntary Pre-K: A child must be four years old on or before September 1st.
At Ocean Palms Elementary we offer a 5-day program during the school year.  Our VPK program consists of classes which blend 4 VPK students and up to 14 Pre-K students who have qualified needs for services through our ESE program.  Each classroom will have a highly qualified teacher holding a bachelor's degree in the areas of early childhood and disabilities; and one paraprofessional.
VPK students are positive role models for their classmates. We encourage our VPK students to be leaders as they prepare for Kindergarten. Your child will become acclimated to the "big" public school setting, and they will transition quickly into Kindergarten.
Please note, Transportation is not provided and Extended Day Before and Aftercare is not offered to VPK students.
Hours: 8:30 a.m.-2:30 p.m. M,T,TH,F and 8:30 a.m.- 1:30 p.m. Wednesdays. 

2022-2023 Fees:  $80.00 per week unless the family qualifies for free or reduced fee based on income.
2022-2023 – VPK Full Day School Year Program  (All seats have been filled for the 2022-2023 school year.) 
UPDATE:  3/16/2022 – We had an overwhelming number of children on our list!  Our students have been selected and the families have been contacted.  However, your child's name will be moved over to our active wait list in the event a seat opens in the future.  If have not added your child's name to our wait list, please email me the following information:
Your child's first and last name,

Your child's gender,

Which school is your child zoned for, upon completion of the VPK Program  (you do not need to be zoned for OPE to be eligible).
Click here to apply for your VPK Certificate:  http://www.floridaearlylearning.com/
Click her to locate other VPK Providers:  https://caressearch.myflfamilies.com/PublicSearch
Tours are not currently available.
Our VPK classes are popular and have LIMITED seats, we recommend that you have an alternate plan.