Click on the link above to read about what's happening at our school.  In every issue you will find a message from Principal Richardson as well as great ideas for getting involved at Ocean Palms.
Dear Ocean Palms Families,
It is hard to believe that this is the final edition of the Palms Post for the 2015-2016 school year. The year has been filled with success, adventure, celebrations, and a whole lot of growth for our students. I am so proud of the gains that our students have shown both in their academics and in their character development. It is a true joy to reflect on the progress that has been made from August to May within our school family.
On Monday morning we celebrated and recognized over 130 3rd, 4th, and 5th grade students for their participation on our various Student Leadership teams. Each adult leader took a few moments to speak about their team and thank their students for showing responsibility and care while they performed their leadership roles. These young leaders are an integral part of what it takes to run our school on a daily basis. As they learn life skills for their future, they are already stepping up in a big way to take pride in their school community, contributing to our success through their daily acts of service. Congratulations to these students and we look forward to training up the next group of leaders in August.
Summer Learning Guides and Supply Lists for next year will be posted on our main webpage and grade level pages by the end of the this week. Please utilize these resources as you begin preparation for summer activities.
Please remember that we have two early release days next week. Both Wednesday and Thursday, May 25th and May 26th , will be 1:50 PM releases.
As you enjoy summer time with friends, family and possibly new neighbors in our growing communities, please encourage our new community members to register their students for school as soon as they can. This will assist us as we plan for classes for the 2016-2017 school year.
With eight school days remaining, my heart is filled with appreciation and gratitude for a job well done! Thank you teachers, thank you students, thank you staff, thank you families, thank you business partners, thank you community partners, thank you PTO, SAC, and volunteers! Each and every child and adult that crosses the threshold of Ocean Palms Elementary has an opportunity to learn and lead with pride and excellence and that is just what has occurred this year.
It is a true honor and privilege to serve as your Principal. I wish you rest, relaxation, and rejuvenation over the next few months. Take good care and we will welcome you and your students for Teacher Meet and Greet on Tuesday, August 9th.
Until Next Time, Be Well
Sincerely,
Jessica Richardson– Principal
Everyone, Everyday, Everything Matters at Ocean Palms!
---
In a continuing effort to provide safety and security to our students and staff we ask that you complete a School Access Form if you plan to enter a facility in the St. Johns County School District. Any person passing beyond the front office area must show a valid driver's license or state identification card.
---
Free Use of High School Outdoor Facilities This Summer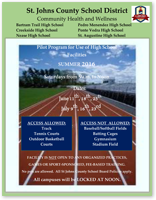 For six Saturdays in June and July, outdoor facilities at each of our high schools will be open for public use to promote community health and wellness. Some restrictions apply.
Please view the flyer for details.
---