Welcome to the 2016-2017 School Year
We hope that summer has treated your family well and that everyone is rested and ready to return to school.  We are busy preparing for your return and would ask that you take a few moments to read the welcome letter that is posted below.  This letter has detailed information about the beginning of the school year.  Taking a few moments to review all of the information in the letter will ensure a smooth start to the school year.
I would like to personally welcome all of our students and families to the 2016-2017 school year.  Keep enjoying summer and we look forward to seeing everyone on Tuesday, August 9th for our Meet the Teacher event.
---
Click on the link below to read about what's happening at our school.  In every issue you will find a message from Principal Richardson as well as great ideas for getting involved at Ocean Palms.
---
In a continuing effort to provide safety and security to our students and staff we ask that you complete a School Access Form if you plan to enter a facility in the St. Johns County School District. Any person passing beyond the front office area must show a valid driver's license or state identification card.
---
Free Use of High School Outdoor Facilities This Summer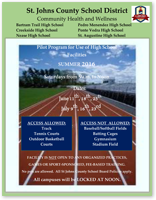 For six Saturdays in June and July, outdoor facilities at each of our high schools will be open for public use to promote community health and wellness. Some restrictions apply.
Please view the flyer for details.
---