OPE Holiday Cheer!
We are extremely grateful for the many ways that our families can show their support for others during this holiday season.  Ocean Palms is supporting the following three projects and we need You!  It's as easy as 1…2…3….
Click on the Signupgenius link here to provide a gift or two to an Ocean Palms student in need.
Bring in an unwrapped toy that will be donated to local foster children.  This project is being led by our very own 5th grade students.
Donate a new or gently used bike, helmet, or athletic ball.  These items will be given to our sister school, The Webster School.
Just a reminder: It can be a financially and emotionally challenging time for families with a hardship. Our school family would like to make sure that every child receives holiday cheer. If your family is in need of assistance, please contact Karin Ngai-Crim, School Counselor, at [email protected] or (904) 547-3760.
---
Click on the link above to read about what's happening at our school.  In every issue you will find a message from Principal Richardson as well as great ideas for getting involved at Ocean Palms.
---
In a continuing effort to provide safety and security to our students and staff we ask that you complete a School Access Form if you plan to enter a facility in the St. Johns County School District. Any person passing beyond the front office area must show a valid driver's license or state identification card.
It is recommended individuals include their middle name when completing the online application; and, if no middle name, then please use the acronym "NMN".  This additional information assists in ensuring your application is not unnecessarily held up during processing.
---
2017 -2018 Instructional Materials Adoption Instructional Materials Adoption- Science
The St. Johns County School District curriculum department representatives and adoption committee members are currently conducting the review process for the 2017-2018 Instructional Materials Adoption for Science. The materials listed in the chart below are available for review by our teachers and the public. The core resources that have been submitted for evaluation have come from the state adoption consideration lists. AP materials that will be reviewed are from College Board recommended materials. Some print materials may be available for review. If you would like access to the available printed materials or require assistance reviewing the online resources, please call the Instructional Resources and Media Services office at 904.547.3947. Materials are available for review from 8:00 AM – 4:30 PM when district offices are open.
Please note the following Florida statute regarding instructional materials that pertains to parent input regarding adopted materials:
F.S. 1006.28 (1)(a)(3) Each district school board must establish a process by which the parent of a public school student may contest the district school board's adoption of a specific instructional material. The parent must file a petition, on a form provided by the school board, within 30 calendar days after the adoption of the material by the school board. The school board must make the form available to the public and publish the form on the school district's website. The form must be signed by the parent, include the required contact information, and state the objection to the instructional material. Within 30 days after the 30-day period has expired, the school board must conduct at least one open public hearing on all petitions timely received and provide the petitioner written notification of the date and time of the hearing at least 7 days before the hearing. All instructional materials contested must be made accessible online to the public at least 7 days before a public hearing. The school board's decision after convening a hearing is final and not subject to further petition or review.
---
CHARACTER COUNTS! 6 Pillars 6K/3K Run/Walk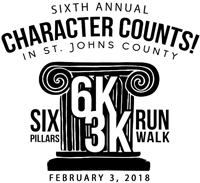 Walkers, runners and fitness enthusiasts are invited to participate in the CHARACTER COUNTS! 6 Pillars 6K/3K Run/Walk on Saturday, February 3, 2018 at 9 a.m. The run/walk will begin and end at Palencia Elementary School. Register before January 1 and receive a $5 discount!
Learn more and register today!
–
Did you know that Otters are very social creatures and have been known to live in groups up to 100- called a Raft?  Our Raft is just about ready to float away for an OTTERIFIC year of learning, and adventure!